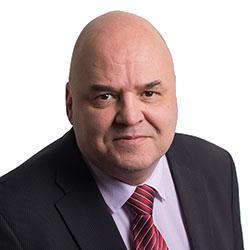 I deal mostly with dispute resolution assignments on a daily basis. I always begin my assignments with a comprehensive evaluation to find the solution that is best at achieving the interests and goals of my client. My goal, even in difficult situations, is always to find an amicable solution, because almost without exception it is also in the interest of our client. Unfortunately, amicable solution is not always achieved through negotiations, and then the solution must be sought in court.I have extensive experience of nearly 20 years in litigation both in civil and criminal law. I have also handled a number of extensive and demanding trials. By utilizing my experience, I can comprehensively advise and represent our clients and, if necessary, also advocate in different fields of law.In voluntary work I am actively involved in operations aiming at promoting physical activity and its conditions for youth in my neighborhood. I work actively as a volunteer in youth football.
Education: LL.M 2001 University of Helsinki, Attorney-at-Law 2015
Language skills: Finnish, English
Practices
Positions of trust
Member of the board in the Finnish DX Association 1994-1998 (1997-1998 2nd vice president).
Editor-in-Chief of the DXclusive 1993-1999.
Board member of FC WILD ry 2011-2013, Member of club's player and coaching development committee and club's treasurer.
Vice-Chairman of the Board of Veikkolan Futiskenttä Oy 2011-2012 and Chairman of the Board 2012-2013.